Advocacy Coalition for Sustaianble Agriculture
ACSA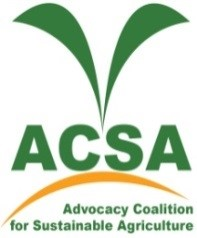 Country/Territory
Uganda
Abbreviation
ACSA
Website
www.acsa-ug.org
Phone
Contact
Harriet Nakasi

Description

ACSA is a legally registered national network of Civil Society Organizations (CSOs), which work with Smallholder farmers and Promote Sustainable Agriculture, Agricultural market development, Environmental conservation, research and advocacy. This is aimed at increasing farmer's understanding of policy issues affecting small holder farmers in Uganda. ACSA's mandate is "Advocating for the agrarian policy environment for small holder farmers in Uganda". ACSA has membership of 29 CSOs spread country wide with Mission "to Empower civil society organizations working with small holder farmers to advocate for favourable agrarian Policy environment for sustainable communities" and a Vision of "Smallholder farmers living in a Sustainable Environment". ACSA's focus areas are; Advocacy and Lobbying, Research and documentation, Capacity building of member Organisations, Capacity building of ACSA secretariat, Networking and partnership Building, which are undertaken under the overall Goal of : "Relevant agriculture policies and services for Small Holder Farmers(SHFs) are implemented to foster profitable sustainable agriculture enterprises"
ACSA Core Values: Spirituality, Commitment, Empathy, .Professionalism , Transparency, Love and care, Equal participation
In order to achieve this Goal ACSA has the following Strategic Objectives:
1. ACSA Member Organizations (MO) and smallholder farmers influence the agrarian policy and budget processes at local and national level.
2. ACSA member organisations (MO) have improved their capacity to access, generate and disseminate research and farmer based innovation for evidence based advocacy at local and national level
3. Strategic partnership and coordination is fostered among ACSA member organizations and other stakeholders for collective action towards improved service delivery to smallholder farmers is enhanced at local and national level
4. ACSA member organizations have enhanced their capacity to support smallholder farmers towards improved access to reliable and profitable markets.
5. ACSA secretariat is providing effective services to the member organisations (MOs)

ACSA is As one of the four CSOs in Uganda at the Agriculture Sector Working Group (ASWG), ACSA presents CSOs position in collaboration with other CSOs that capture interests of the Smallholder farmers for prioritization. Other areas of focus include dissemination of research/ best practices and capacity building in policy and budget processes, linkages to other partners and support policy and budget related National and district initiatives.
See all from Africa