Alliance for Organic Integrity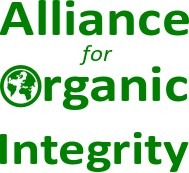 Country/Territory
United States of America
Organization Type
Campaigning Association / Charity
Website
www.alliancefororganicintegrity.bio
Phone
+
Contact
Francis Blake (Chairman)
Georgina Thomas (Coordinator)

Description

The Alliance was founded in 2019 by IOAS to improve organic integrity. Our mission, is to be the global multistakeholder Alliance that delivers the education, tools and resources needed to lift quality in organic control; maintaining the integrity of organic certification and consumer confidence in the organic label.

We aim to:
- Collaborate with stakeholders from industry, control bodies, government agencies and non-profits to share knowledge, innovations, resources and solutions for organic integrity.
- Promote the harmonization of organic requirements to enable more efficient and consistent application.
- Lift quality in organic inspection, certification and accreditation through education and training in best practice.
- Deliver tools that help prevent fraudulent products entering organic supply chains.
See all from United States of America
See all from North America